I am really excited about Paper Back Swap (PBS)!
Most homeschoolers have shelves and shelves of books sitting and waiting to be used.  Want to swap them for a book you have been wanting- FREE? You do need to pay to ship books but media rate is under $3.00. In return you can get almost any book without paying shipping!
I used to buy used books at Amazon because many are only .01 however, an Amazon Used Book at 0.01 +$3.99 sh = $4.00. Most of the time much more. You can get the same book at Paper Back Swap for $2.50-$3.45. (your postage for shipping a book from home or purchase a $3.45 credit)
There is no need to go to the post office, just print the label from your computer and pop the book into the mail.
More than a million books are listed. Did I mention I was excited?
How it Works
List 10 books to get 2 free credits. Each new member (limited to the first member listing per household) gets two "start up" credits once ten books are listed.
A Homeschool Dream
Homeschool families are usually one income families with massif size book appetite and a chihuahua size pocketbook.   Imagine thousands of homeschoolers using this system saturating PaperBackSwap with popular Christian homeschool books.
Don't let valuable knowledge sit on your book shelves gathering dust– share with homeschoolers that need them!
Get More Free Credits
If you refer a new member* who then posts 10 books to his or her Bookshelf, you will receive a credit. So please  if you join or click this button: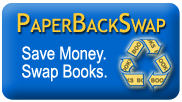 If you have a blog, or facebook, or Twitter you can add links to get credits.
No Trips to the Post Office!
PBS  has a special  mailing system that allows you to print out a wrapper, they calculate the cheapest method for shipping. If it weighs under 7 ounces it's cheaper to mail it First Class, if it's heavier than Media Mail is cheapest.
Print out the wrapper and wrap the book, instead of having to
No calculating shipping
No buying  stamps
No addressing a label
No need to go to the post office, just stick it in your mail box!
If you use Paperbackswap mailing system, once you click the button to say the book has been mailed, you get immediate  credits.
More than Paper Books
The name is Paperback swap but you can trade hardbacks, CDs and DVDs too. They have a ton of audio books.
FABIL (Find A Book I'll Like)
The FABIL system will use PBS data to recommend personalized lists of books that they think you'll enjoy reading.
The Golden Rule
To post any book you must follow this rule:
Did you notice "no writing or highlighting"? About 80% of my books are non fiction chock full of notes and highlighting. However, that leaves 20% (mostly Christian fiction) without highlighting. So I can still list a few hundred books.
Do you have books lying around that could be your ticket to a new library? Are you as excited as I am?
If you sign up let me know below and I'll email you a link to my posted books (posted 35 this morning).
Join the Club and Swap Books for Free! – PaperBackSwap.com
Subscribe
Subscribe for 65 pages from The Heart Wisdom Teaching Approach (pdf)